A Kiwi parachute manufacturer has stayed on top of the world with the help of research and development backing.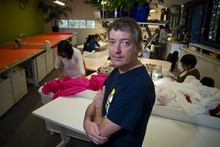 Paul Martyn's parachute business produces a new prototype every week. Photo / Michael Craig
NZ Aerosports operates out of a Grey Lynn garage in Auckland, but their products – one of which set a world distance record in the US recently and won a World Cup event in the Czech Republic this week – are the second-most produced parachute canopy brand in the world.
The classic Kiwi success story started in the early 1980s, when skydiver Paul Martyn was on the dole. He needed money to go jumping so he started making gearbags for friends.
By 1985, the then-21-year-old was copying American canopy designs and the company was born. Martyn's mate, Jef Kay, got the ball rolling by mortgaging his house, making it possible to buy fabric, sewing machines and to employ four people.
Martyn bought him out in 1990. He gained international recognition in 2000 with wins at a prestigious event in Nevada. "We came first, second and third in almost every category and took out an ad in Skydiving magazine saying 'Are you convinced yet?'," Martyn said.
That success has continued. A new high-performance parachute, Petra, broke the world distance record, covering 222m horizontally after diving to within metres of the ground in Colorado three weeks ago. And last week US jumper Nick Batsch won the World Cup in the Czech Republic jumping in a Petra. "It's performing so much better than anything out there at the moment," Martyn said.
Part of the reason for that is the prototype testing they are able to do thanks to research and development backing. With help from Simon Lempriere, from business-consultancy company Dynamic Resources, the company received a $28,000 grant from the Ministry of Science and Innovation last year.
Martyn had to spend the same amount himself, but it meant a new prototype could be produced and tested weekly. "It's stimulated us and the results will flow through to the rest of the range."
Another grant, worth $172,000, has already been approved and it is hoped another 100 prototypes will be made over the next two years. About 2000 test jumps are planned and two parachute riggers will be employed from Australia and the US.
NZ Aerosports parachutes are now made under licence in the US, Spain and Germany.
Martyn, who is nicknamed Jyro, uses computer-controlled cutting machines and employs French aerodynamic engineer Julien Peelman. They use a virtual wind tunnel to come up with cutting-edge prototypes.
The company makes about 25 double- or triple-cell winged nylon parachutes a week, of which 95 per cent are exported. Each one sells for between $2500 and $5000, excluding harness systems. Around 900 canopies were exported last year and Martyn hopes to increase that to 1200 this year.
The business owner, now 47, focuses on designing and testing prototypes but pops into the workshop in the afternoon for a beer.
The company employs up to 20 people during busy periods. The main challenge has been managing our high dollar. "It's so volatile you don't know where you're going to stand. If it goes too high our business won't be viable. Every cent it changes our profit goes up or down by $700 per week."
To find out how we can help you access R&D grants, contact Simon Lempriere of DynamicResources at simon@dynamicresources.co.nz or 09 236 0082 and 021 721156
By Andre Hueber NZHerald http://www.nzherald.co.nz/business/news/article.cfm?c_id=3&objectid=10747812